"Say the Rosary every day…
Pray, pray a lot and offer sacrifices for sinners…
I'm Our Lady of the Rosary.
Only I will be able to help you.
…In the end My Immaculate Heart will triumph."

Our Lady at Fatima
The word Rosary means "Crown of Roses". Our Lady has revealed to several people that each time they say a Hail Mary they are giving her a beautiful rose and that each complete Rosary makes her a crown of roses. The rose is the queen of flowers, and so the Rosary is the rose of all devotions and it is therefore the most important one. The Holy Rosary is considered a perfect prayer because within it lies the awesome story of our salvation. With the Rosary in fact we meditate the mysteries of joy, of sorrow, of glory and of light Jesus and Mary. It's a simple prayer, humble so much like Mary. It's a prayer we can all say together with Her, the Mother of God. With the Hail Mary we invite Her to pray for us. Our Lady always grants our request. She joins Her prayer to ours. Therefore it becomes ever more useful, because what Mary asks She always receives, Jesus can never say no to whatever His Mother asks for. In every apparition, the heavenly Mother has invited us to say the Rosary as a powerful weapon against evil, to bring us to true peace. With your prayer made together with Your heavenly Mother, you can obtain the great gift of bringing about a change of hearts and conversion. Each day, through prayer you can drive away from yourselves and from your homeland many dangers and many evils.
It can seem a repetitive prayer but instead it is like two sweethearts who many times say one another the words: "I love you"…
The Blessed Holy Father John Paul II on October 16th, 2002 with the Apostolic Letter Rosarium Virginis Mariae on the Most Holy Rosary has added 5 new mysteries of the Rosary: The Mysteries of the Light.
The whole Rosary is composed of twenty decades. Each decade is recited in honor of a mystery in Our Lord's Life and that of His Blessed Mother.
It is customary to recite five decades at a time while meditating on one set of mysteries.
The decades may be separated, if the entire chaplet is completed on the same day.
Each Mystery may be meditate "bead by bead" for every Hail Mary of the decade.
The Mysteries
of the Rosary
 JOYFUL on Monday and Saturday.

 LIGHT on Thursday

 SORROWFUL on Tuesday and Friday.

 GLORIOUS on Wednesday and Sunday.
1

While holding the crucifix make the Sign of the Cross. and then recite the Apostles Creed

2

Recite the Our Father on the first large bead.

3

Recite a Hail Mary for an increase of faith, hope and charity on each of the three small beads.

4

Recite the Glory Be to the Father on the next large bead.

5

Recite the Fatima Prayer "O my Jesus" on the large bead.

6

Recall the first Rosary Mystery and recite the Our Father on the large bead.

7

On each of the adjacent ten small beads (also refered to as a decade) recite a Hail Mary while reflecting on the mystery

.

8

On the next large bead, recite the Glory Be to the Father, the Fatima prayer

.

9

Each succeeding decade is prayed in a similar manner by recalling the appropriate mystery, reciting the Our Father, ten Hail Marys while reflecting on the mystery, the Glory Be to the Father, and the Fatima prayer.

10

When the fifth mystery is completed, the Rosary is Customarily concluded with the Hail Holy Queen, and the Sign of the Cross.
PILGRIMAGE TO THE NATIONAL SHRINE
OF OUR LADY OF GOOD HELP
IN CHAMPION, WISCONSIN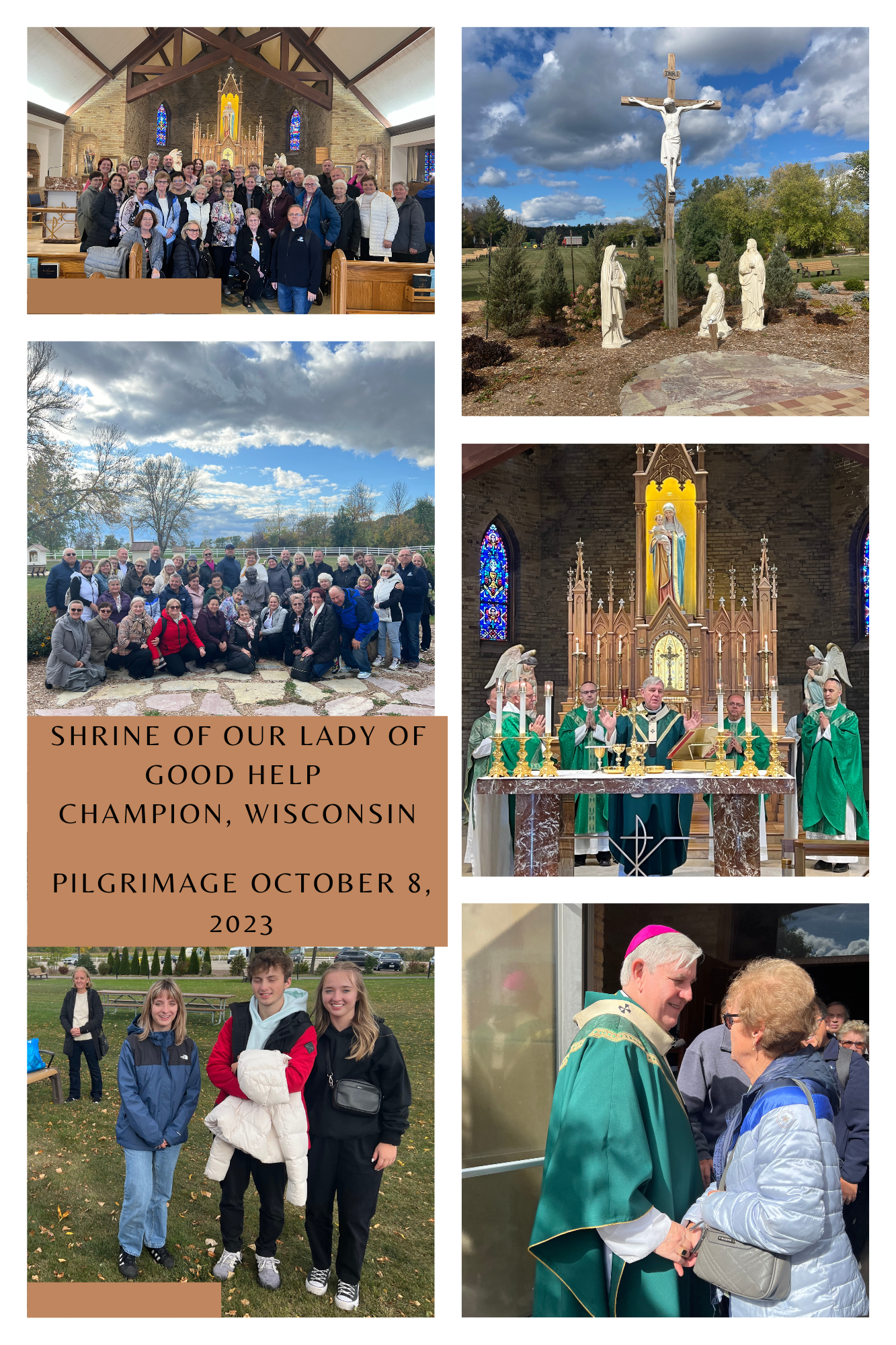 On Sunday October 8, 2023 a group of 56 parishioners and friends of St. Albert the Great Parish visited the National Shrine of Our Lady of Good Help. Sunday October 8th it is an anniversary of the Miracle of the Fire and apparition of the Blessed Virgin Mary to Adele Brise in 1871. Our pilgrimage participated in the Rosary prayer before Mass. The Holy Eucharist was concelebrated by emeritus Archbishop  Jerome E. Listecki, Mercy Fathers and our Pastor Fr. Mariusz Nawalaniec. It was a day of prayer and meditation of the mysteries of the  Rosary for everyone. It was a time for private prayer and group outdoor Stations of the Cross. Pilgrimages was held in both Polish and English. It was a great experience to pray and spend time together.
  PIELGRZYMKA do Matki Bożej Dobrej Pomocy w Champion, Wisconsin.
W Niedzielę 8 października 2023 wcześnie rano grupa pariafian oraz przyjaciół Parafii Świętego Alberta Wielkiego wyruszyła na Pielgrzymkę do Matki Bożej Dobrej Pomocy w Champion, Wisconsin. 8 i 9 października to rocznica Cudownego Pożaru oraz objawienia się Matki Bożej belgijskiej dziewczynie Adeli Brise i prosiła ją o modlitwę o nawrócenie zatwardziałych grzeszników oraz o katechizację dzieci i młodzieży. Objawienie Matki Bożej Adeli było prywatnym objawieniem i zostało uznane przez Kościół Katolicki. Sanktuarium Maryjne w Champion jest jednym z wielu Sanktuariów Maryjnych na terenie Stanów Zjednoczonych.
Pielgrzymka była czasem modlitwy, Mszę Świętą w asyście księży koncelebrował emerytowany Ks. Arcybiskup Hieronim E. Listecki, który po Mszy Świętej w drzwiach świątyni prawie z każdym zamienił kilka słów w języku polskim.
Wspólnie przed Mszą świętą odmówiliśmy różaniec, następnie uczestniczyliśmy we Mszy św.
Był czas na prywatną adorację. Grupa była dwujęzyczna.  W miłej braterskiej atmosferze spędziliśmy październikową Niedzielę.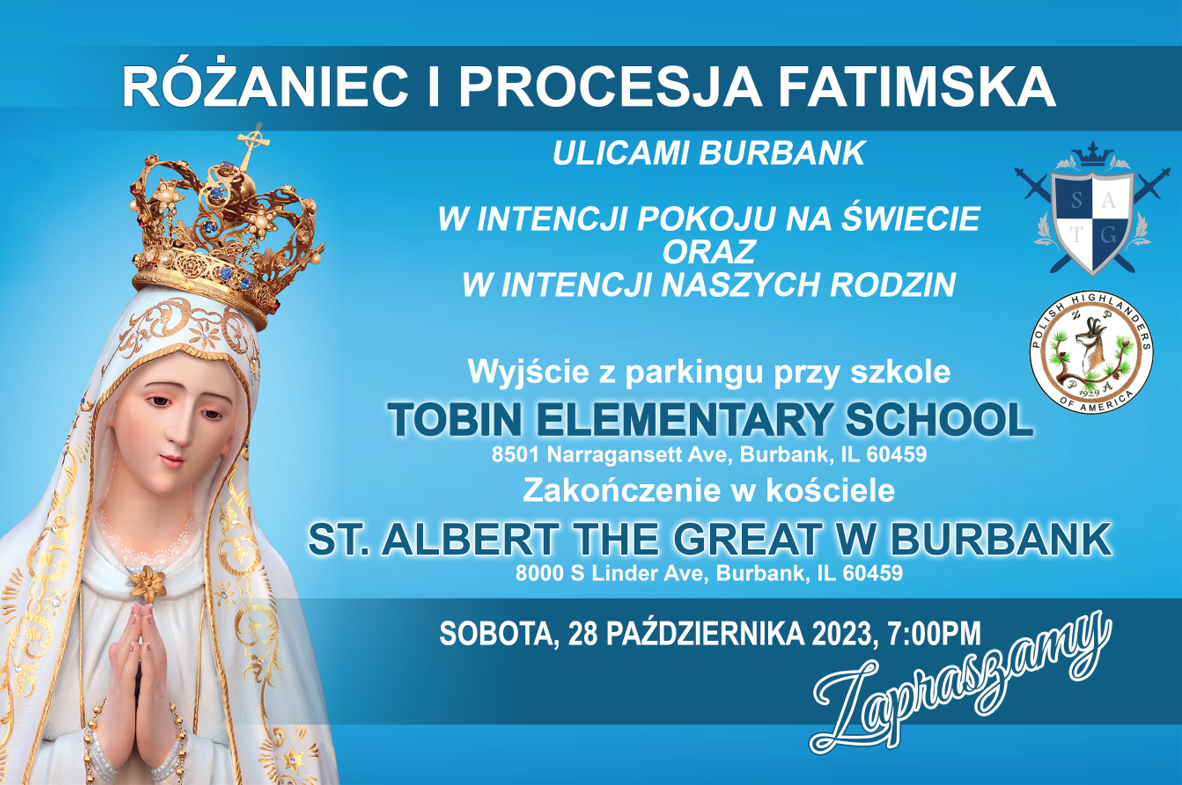 __________________________________________________________________________

 Archdiocesan Overview
(Statistics Reported for 2022)
The Archdiocese of Chicago serves around 2.2 million Catholics in Cook and Lake Counties in Northeastern Illinois, a geographic area of 1,411 square miles. The Archdiocese is divided into six vicariates and 31 deaneries. This local church is pastored by Cardinal Blase J. Cupich, assisted by six Episcopal Vicars, each responsible for a vicariate (region).
CATHOLIC POPULATION
2,093,000
Catholic population as percentage of total population of Cook and Lake counties: 35%
PARISHES
Number of Parishes: 216 (as of 7/2023)
Baptisms: 20,900
First Communions: 14,700
Confirmations: 14,950
Weddings: 3,616
Funerals: 11,660
Scheduled Masses (October 2022)
Weekend Masses Scheduled in Parishes and Missions: 1,194
English: 799
Spanish: 260
Polish: 86
Other Languages: 47
CATHOLIC EDUCATION
Catholic Schools
Elementary schools (archdiocese-run): 151
Elementary schools (non-archdiocese-run): 8
Secondary schools (archdiocese-run): 3
Secondary schools (non-archdiocese-run): 27
Elementary school enrollment: 45,321
Secondary school enrollment: 19,383
Religious Education (2021 – 2022)
Enrollment in elementary school programs: 39,000
Enrollment in secondary school programs: 3,600
Seminary System
St. John Vianney College Seminary, St. Paul, MN
Enrollment: 7
Mundelein Seminary
Enrollment: 132
Enrolled for Chicago: 27
Catholic Colleges and Universities
5 Catholic colleges and universities serving 45,000 students
CATHOLIC CHARITIES
Helping more than 375,000 people
Programs: Over 40 Program Distinctions
CATHOLIC CEMETERIES
Catholic cemeteries: 47
Annual interments: 16,000
CATHOLIC HOSPITALS
Catholic hospitals: 16
People assisted annually: 2 million
DIOCESAN PRIESTS, DEACONS, WOMEN AND MEN RELIGIOUS, AND LAY PERSONNEL IN THE ARCHDIOCESE
Diocesan Priests (including active and retired): 683
Religious Priests: 432
Religious Brothers: 149
Women Religious: 1,068
Deacons: 652 (includes active, active outside the diocese, seniors, and retired)
Certified Pastoral Associates: 43
Understanding the Bible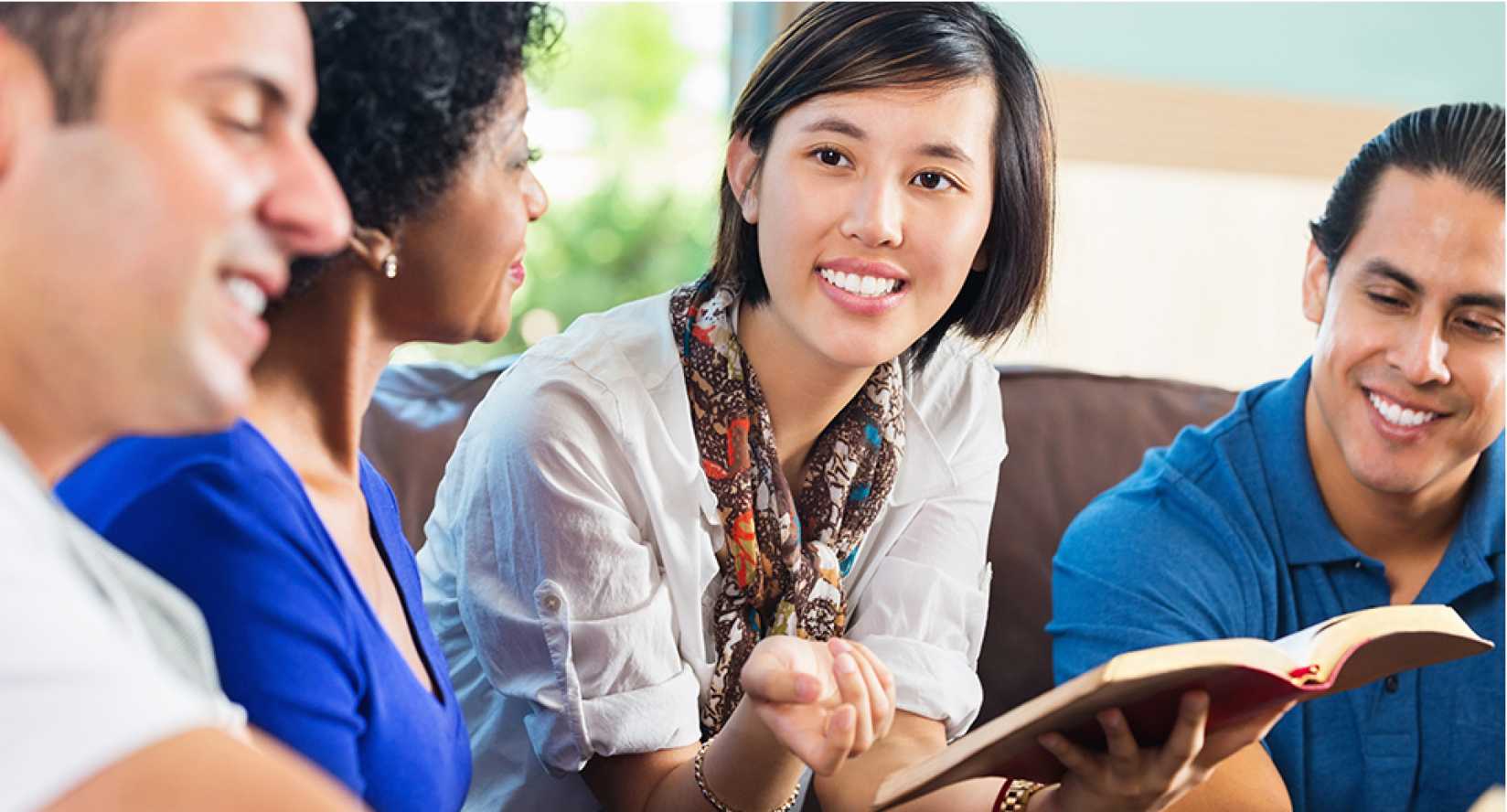 Approved translations of the Bible
---
The Bible is all around us. People hear Scripture readings in church. We have Good Samaritan (Luke 10) laws, welcome home the Prodigal Son (Luke 15), and look for the Promised Land (Exodus 3, Hebrews 11). Some biblical passages have become popular maxims, such as "Do unto others as you would have them do unto you (Matthew 7:12)," "Thou shalt not steal (Exodus 20:15), and "love thy neighbor" (Matthew 22:39).
Today's Catholic is called to take an intelligent, spiritual approach to the bible.
Listed here are 10 points for fruitful Scripture reading.
Bible reading is for Catholics. The Church encourages Catholics to make reading the Bible part of their daily prayer lives. Reading these inspired words, people grow deeper in their relationship with God and come to understand their place in the community God has called them to in himself.
Prayer is the beginning and the end. Reading the Bible is not like reading a novel or a history book. It should begin with a prayer asking the Holy Spirit to open our hearts and minds to the Word of God. Scripture reading should end with a prayer that this Word will bear fruit in our lives, helping us to become holier and more faithful people.
Get the whole story! When selecting a Bible, look for a Catholic edition. A Catholic edition will include the Church's complete list of sacred books along with introductions and notes for understanding the text. A Catholic edition will have an imprimatur notice on the back of the title page. An imprimatur indicates that the book is free of errors in Catholic doctrine.
The Bible isn't a book. It's a library. The Bible is a collection of 73 books written over the course of many centuries. The books include royal history, prophecy, poetry, challenging letters to struggling new faith communities, and believers' accounts of the preaching and passion of Jesus. Knowing the genre of the book you are reading will help you understand the literary tools the author is using and the meaning the author is trying to convey.
Know what the Bible is – and what it isn't. The Bible is the story of God's relationship with the people he has called to himself. It is not intended to be read as history text, a science book, or a political manifesto. In the Bible, God teaches us the truths that we need for the sake of our salvation.
The sum is greater than the parts. Read the Bible in context. What happens before and after – even in other books – helps us to understand the true meaning of the text.
The Old relates to the New. The Old Testament and the New Testament shed light on each other. While we read the Old Testament in light of the death and resurrection of Jesus, it has its own value as well. Together, these testaments help us to understand God's plan for human beings.
You do not read alone. By reading and reflecting on Sacred Scripture, Catholics join those faithful men and women who have taken God's Word to heart and put it into practice in their lives. We read the Bible within the tradition of the Church to benefit from the holiness and wisdom of all the faithful.
What is God saying to me? The Bible is not addressed only to long-dead people in a faraway land. It is addressed to each of us in our own unique situations. When we read, we need to understand what the text says and how the faithful have understood its meaning in the past. In light of this understanding, we then ask: What is God saying to me?
Reading isn't enough. If Scripture remains just words on a page, our work is not done. We need to meditate on the message and put it into action in our lives. Only then can the word be "living and effective."(Hebrews 4:12).
---
By Mary Elizabeth Sperry, Associate Director for Utilization of the New American Bible.
No, Divorce is Not the New Normal: A Catholic Psychologist's 5 Tips for a Strong & Holy Marriage
Dr. Ray Guarendi of EWTN Radio explains five ways Catholics can form strong and holy marriages.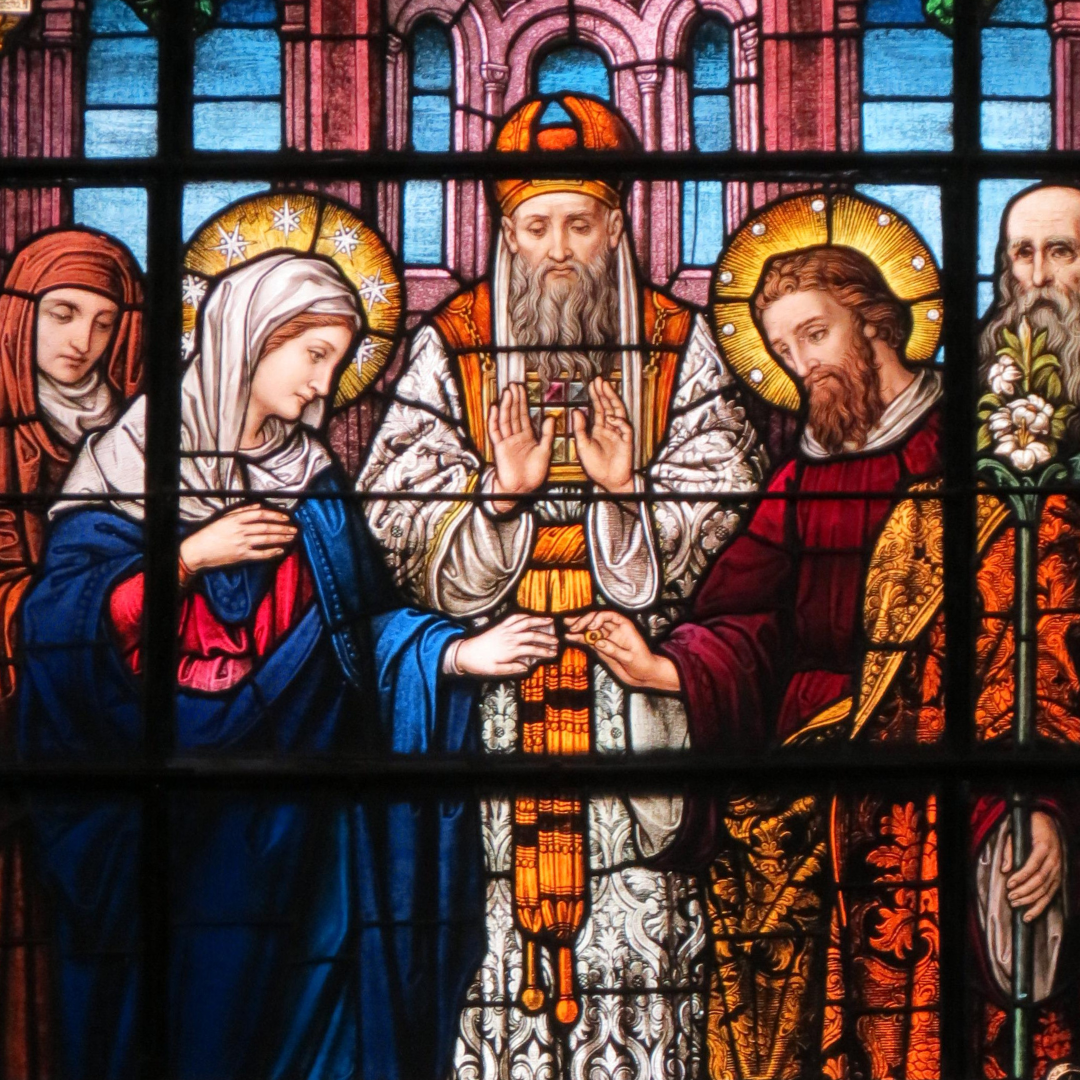 Divorce rates increase, families break apart, and the next generation suffers the effect of being raised in single-parent homes. Is this the new normal?
Thankfully, Dr. Ray Guarendi, psychologist and host of EWTN Radio's "The Doctor is In," recently appeared on "The World Over with Raymond Arroyo" to discuss his new book, "Simple Steps to a Stronger Marriage".
Here are five helpful tips he suggests for Catholic couples:
1. Our Culture is Not Your Friend
Make no mistake–we currently live in the culture of death that Saint John Paul II warned of. This culture promotes pleasure, selfishness, and transactional relationships as a means to an end.
The culture of our time tells us that self-worship is empowerment; we must elevate our happiness above all else and throw away anything that does not serve us.
Jesus says the exact opposite. He tells us to deny ourselves, take up our cross, and follow Him, (Luke 9:23).
During times of marital discourse, do not turn to this self-obsessed culture as a guide or comfort.
When asked about the high divorce rate, Dr. Guarendi states, "About 80 percent of marriages end because 'I don't like you anymore I don't want to be around you, I don't want to live with you anymore.'
"The bulk of marriages don't have severe pathology… For the most part, it's two people who have stopped getting along…We live in a culture that says you can have sexual relationships with anybody, anytime, anywhere. Just don't have more than 1.86 children in marriage. Then, we will belittle you." (2:28-2:55)
2. Learn to Be Silent – Listen to Your Partner
Not to be confused with the silent treatment, we can benefit from the power of silence. There is much to be said for learning to pause and hold our tongue.
Unfortunately, speaking to our partners out of anger is very common, in what Dr. Guarendi calls, "peak emotional surge."
"When you most feel like saying it, delay," he continues. "Hold for 20 seconds and the physiological urge will taper enough for you to control it."
Good communication calls for acknowledging both – when to speak and when to listen, even though it may not be easy.
"Spouses have to understand what's going on in the other person's head. You may not agree with it… but you have to at least understand it. Most people want to be understood even more than they want to be agreed with," Dr. Guarendi says.
3. Remember Your Manners
Manners. Remember those?
"Many spouses don't have the manners of a five-year-old," Dr. Guarendi shares.
As the years pass, spouses may take one another for granted, forgetting a quintessential life skill – manners. The way we speak to our spouse matters and saying "please" and "thank you" should always be part of our daily vocabulary.
Respecting the dignity of the spouse God entrusted you with must remain a priority.

"We expect manners from five-year-olds, but in a marriage, we get very sloppy with our spouses," Dr. Guarendi says.
In Looking for a Spouse:
4. Shared Faith is Essential
When it comes to the role of faith in relationships, Dr. Guarendi states, "If one spouse is faith-filled, the marriage has a much longer chance of success. If both spouses are faith-filled, the divorce rate is much much lower."  (18:28)
Pursuing someone with the hopes of converting them later is not smart courtship and may only waste time. Sharing the Catholic faith and all the values that come with it is essential.
5. "Opposites Attract" Won't Get You Very Far
We've all heard "opposites attract," but how opposite is too opposite? Should we seek a spouse who is vastly different from ourselves?
"I have seen many marriages fail because they didn't have enough commonality. The first commonality is faith," Dr. Guarendi says. "Secondly, take the time you need to really get to know this person."
"Third, make sure this person views life as you do (children, finances, family, parenting, etc.). Most importantly, find a potential spouse who takes the faith like you do," Dr. Guarendi explains.
While dating someone so opposite to yourself may seem exciting at first, it may quickly become tiresome. Having shared morals and beliefs is important, as the relationship will often rely on this foundation.
Catholics should not take the sacrament of holy matrimony lightly, as it is a physical representation of Christ's sacrifice in the living Eucharist.
We are called to love and be loved, and in the marital vocation, to give the complete gift of self.
Commitment is not always easy, but as Catholics, we are provided with the most perfect example: a loving Lord who will show up for us time and time again.
Watch the full segment on "The World Over":

St. John Paul the Great
"The future starts today, not tomorrow."
St. John Paul the Great, also known as Saint John Paul II, was the Pope of the Catholic Church from 1978 until his death in 2005. Catholics remember him as being the first non-Italian pope, forgiving his attacker after an assassination attempt and being outspoken about human rights.
St. John Paul the Great knew that every day was a chance to pave the way for a better future. With the mentality that the future starts now, you can live each day with new motivation to make life the best it can be for you and the people around you.
Pictures from Triduum Sacrum
 + + + + + +  + + + + + + + + + + + + + + + + + + + + + + + + + + + + + + + + + + + + + + + + + + + + + + + + + + + + + + + + + + +
OUTDOOR STATIONS OF THE CROSS
—————————————————————————————————-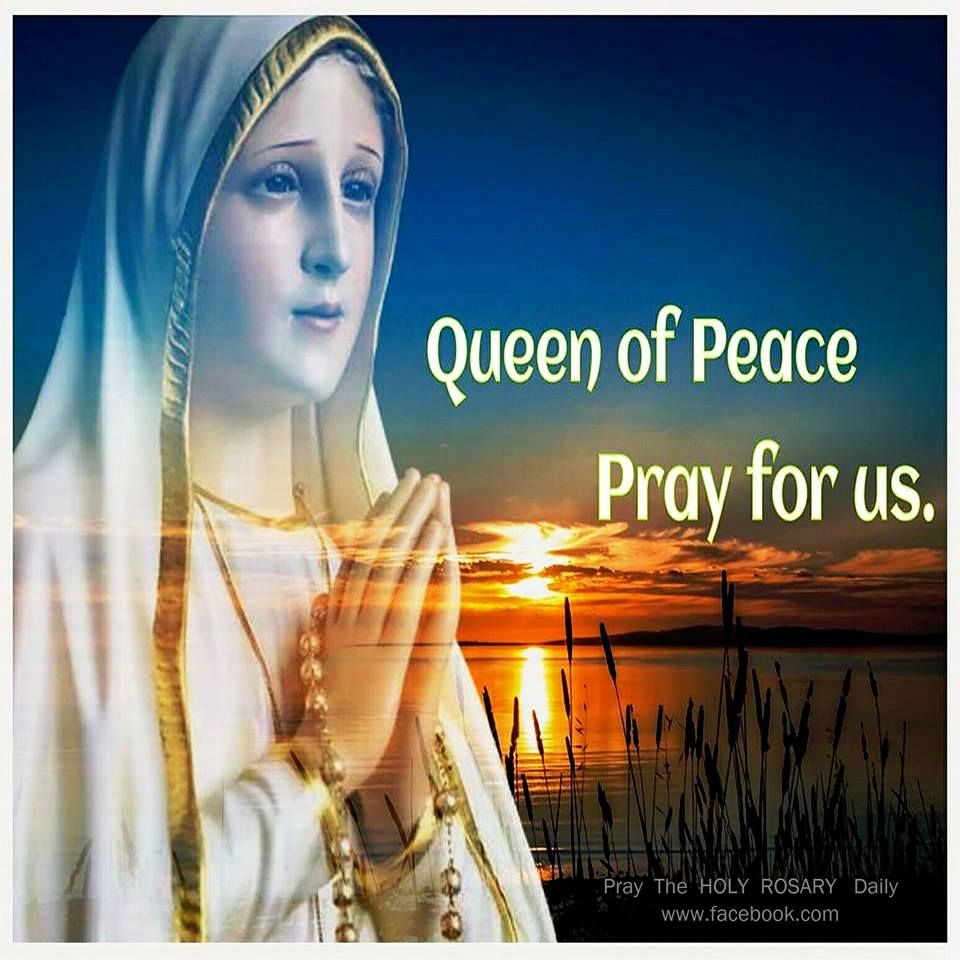 24 Hour Prayer for Ukraine Schedule

Click Here